Desiccated Coconut / coconut flour
Desiccated Coconut is a grated, dried (3% moisture content max.), and unsweetened fresh meat or kernel of a mature fruit of coconut. Dessicated Coconuts are graded by its cutting size, for example, fine grade and medium grade where fine grade is smaller particle size than the medium grade.
Desiccated coconut is consistently produced and handled under conditions meeting Codex General Principles of
Food Hygiene, EU & FDA Good Manufacturing Practices and comply with all current national and international
food legislations and applicable regulations of importing country.
Each pack is identified as to grade, production code/date and serial number. Other markings are stamped on the
bag as required by buyer.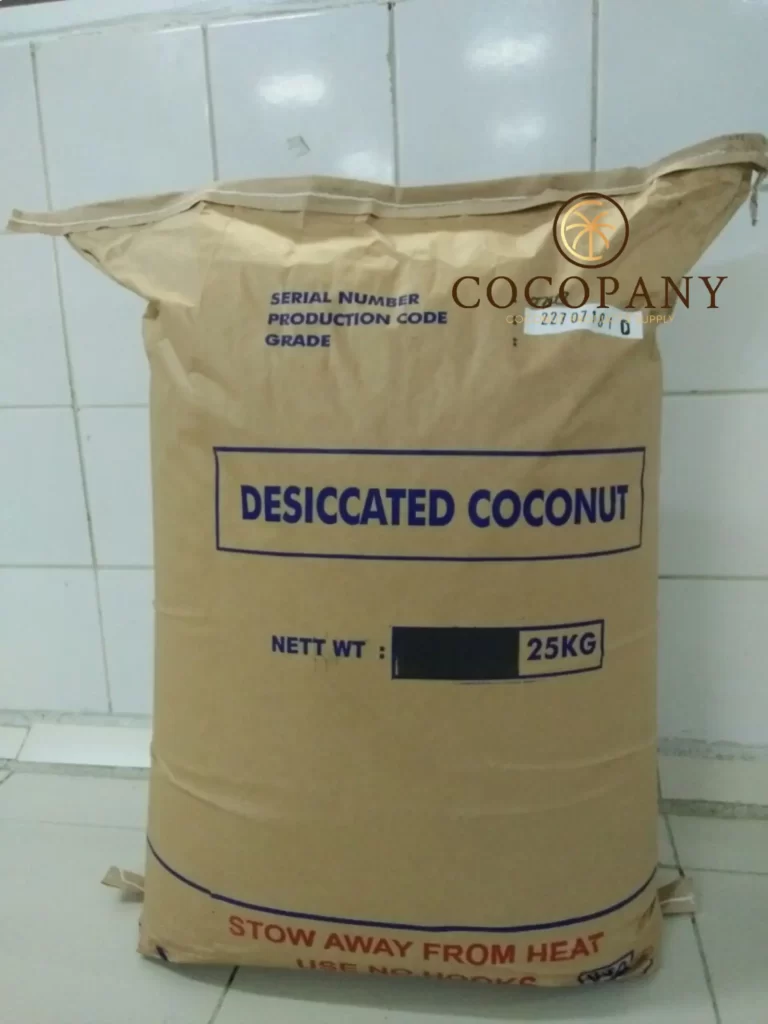 PHYSICAL 
Colour : White, free from yellow specs or other discolourations

Flavour/ Odour : Mild and sweet characteristics of coconut, free of foreign flavours and odours 

Size : Extra fine granules of coconut 

Granulation:

No. of sieves (ASTM) Retained On Mesh 18 (1.00 mm) : 25 % maximum
Pan : 75 – 100 %
| | |
| --- | --- |
| CHEMICAL |   |
| Moisture Content : | 2.5% maximum |
| Total Fat (Dry basis) : | 50% ±5 |
| Free Fatty Acid (as lauric) Dry basis | |
| Residual SO2 | FREE ppm |
| pH (10% dispersion filtrate) : | 0.10 maximum |
| Total Aflatoxins : | Not Detected ppb (DL : 4 ppb) |
| Organophosphorus pesticide residues : | None Detected , ppm (DL : 0.1 ppm) |
Supply Ability : 
100 Tons Per month
Buyer's request (bulk packaging standard: 25 kg with plastic & carton box)
Payment :
We support T/T,  50%  DP Against BL, L/C
Product Description
Colour : Natural white
Flavour: Mild and sweet
Our Certification:
USDA, HALAL, HACCP and EU
Size (Granulation)
Mesh 7 (% retained) = 0 %
Mesh 10 (% retained) = 2 %
Mesh 12 (% retained) = 3 %
Mesh 14 (% retained) = 5 %
Mesh 18 (% retained) = 25 %
Mesh 35 (% retained) = 62%
Chemical
Fat Content = 65 %
FFA (as lauric acid) = 0.05 %
pH (5 % in solution) = 6.5
Moisture Content = 1.6 %
Residual SO2 = 30 ppm
Microbiological
Total Plate Count = 1.0 x 103 cfu/ml
Yeast Count = 2.2 x 101 cfu/ml
Mould Count = 2.5 x 101 cfu/ml
Enterobateriaceae Count = 10 cfu/ml
Coliform Count = Negative
Escherichia Coli = Negative
Salmonella = Negative
Aflatoxin = Negative